Why use a Mobility Solution in you Business
Mobility in the office or your work environment can be just as instrumental for productivity as mobility outside of the office. We see this all the time with simple electronics like a wireless mouse or keyboard.  The same holds true for your communications, especially in businesses where employees are required to move around frequently.
There are a variety of uses and needs for cordless phones in the workplace. Now, we when say cordless phones, we are not referring to your old portable phone from the 90's. We are talking about high quality cordless business phones. These come with the same bells and whistles and call functionality as your desk phone, but are more functional for workplaces where mobility is needed.
Here are 4 reasons it's a good time to go cordless in your work place.
1. Cost
Depending on your business space, installing phones where you need them can be rather costly. Cordless phones are an ideal solution for situations where Ethernet cabling is too expensive or unavailable.  The best part is, with cordless business phones, all you need is a power outlet. No jacks or expensive wiring is required, making them a cost-effective phone solution for many businesses.
2. Flexibility
There are many types of businesses that require employees to have the ability to access multiple locations while servicing customers. Whether in a retail store, office, warehouse or a business where employees just need access to the storage room, cordless phones provide the perfect avenue for flexibility and functionality, boasting upwards of 150 feet of free roaming.
3. Sound Quality
Some smaller businesses may be thinking, why can't we just use company cell phones if flexibility is needed? Besides keeping calls with your customers professional, cordless phones sound a whole lot better.  Studies show that voice quality for talking and listening is better on cordless phones than the of the best cell phones, especially for those who suffer from hearing loss or work in noisy business environments.
4. Functionality
Another reason businesses are flocking to the flexibility of cordless business phones, is their feature sets. From phone-to-phone intercom, caller ID, hold and three-way conferencing, combining the flexibility of cordless freedom with advanced calling features is a win-win. Cordless desk phones provide businesses with even more versatility, offering premium business phone features like, extension dialing, do not disturb, VIP ringtones, caller ID with the caller's name, full duplex speakerphone, mute, hold and convenient volume controls on the handset itself. It doesn't get much better when you can have access to these advanced features and can eliminate the nuisance of cords.
Cordless business phones provide many advantages to businesses looking for cost- effective, quality voice calling and unrestricted mobility in the workplace.
Along with workplaces such as factories, warehouses, schools and hospitals, there are a growing number of traditionally office-based working environments that require flexible, mobile IT and telecommunications networks. It is currently estimated that as many as 80% of workers across all industries are potentially mobile around their workplace and may require access to wireless voice communications.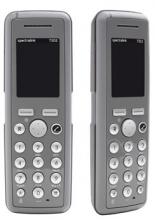 DECT Deployments
The standard DECT- (Digital Enhanced Cordless Telecommunications) commonly used for domestic or corporate purposes for digital portable (cordless) phones is an ETSI (European Telecommunications Standards Institute). DECT (like GSM) is a cellular system and the major difference between GSM and DECT systems is that the cell radius on DECT is 25 to 100 meters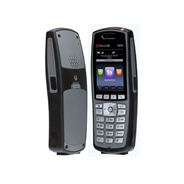 WiFi Deployments
The main attraction of a WiFi system is that it offers a single infrastructure for supporting wireless telephony and data, potentially providing a substantial return on investment by reducing hardware costs as well as longer-term operational, maintenance and support costs. But caution should be practiced with deploying Voice on just "any" wireless infrastructure, the WiFi system must be planed out and be of "Voice Grade". Like DECT deployments WiFi has strict rules to follow.